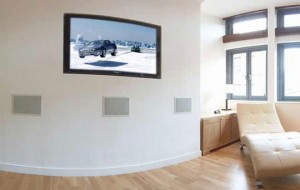 Imagine being able to listen to beautiful music anywhere in your home; imagine being able to watch any video you have ever purchased, downloaded, or recorded anywhere in your home. No more having to get up to change CDs or DVDs every time you want to listen or watch something new.
A distributed audio and video system can do those things for you. Your home can be divided into individual zones, each of which are able to select different source material as well as adjust volume separately in each zone.
This means that while the kids are listening to their rock music in their rooms, you will still be able to relax and finish your work with your favorite jazz or classical artist playing in the background.
All of the controlling products for this type of system can be installed in any central location at your easiest convenience; whether it be in an entertainment center in your living or in your centrally located equipment rack.